Happy Monday!  I hope you all had a great weekend.
First I would like to give a big shout out to all the fine folks that visited from My Repurposed Life's Catch as Catch Can party.   Thursday Gail posted that the "overwhelming favorite" of the folks visiting the party was the link for the Roadside Rescue Night Stands!  Thank you everyone!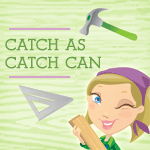 I created a rather large to do list for this past weekend and am very happy to announce that I accomplished all of it and then some!  I love it when a plan comes together.
Part of the list included two mismatched night stands that have been replaced with the Roadside Rescue night stands.  They are still great pieces, but not needed in our bedroom.
After painting the bird houses as a way to keep myself busy when I was out with a pulled neck muscle I found that I was incredibly attracted to the colors that I used.  When I sat back and looked at the night stands, I knew one of them HAD to have these colors.
Here is the before of night stand #1
And here is the After
I love this night stand now. It's fun and funky and makes me smile.
The only birdhouse color I didn't use was the purple. Just couldn't bring myself to do it….lol
Check back on Wednesday to see the make over of nightstand #2 *wink*
Smooch!
Partying at:  The Sunday Showcase Party    Masterpiece Monday       Meet Me Monday!     DIY Project Parade     Keep Calm & Link UP     Motivated Monday     Show Me How     Take it on Tuesday     From Dream To Reality     Be Inspired     All Star Block Party     Adorned From Above     The Fun in Functional     Furniture Feature Friday
The Power of Paint Party     Restored it Wednesday     Show Me What Ya Got    Catch as Catch Can      Share Your Cup Thursday      Uncommonly Yours Link Party     Thursdays Favorite Things
Related posts: